Sleek lines, bright colors, designer names, and expensive prices. These gifts are perfect for the design fan on your shopping list.
1. Egg cup by Stefano Giovannoni for Alessi
Renowned Alessi designer, Stefano Giovannoni, is known for applying new, fun designs to otherwise mundane, everyday household items. He created the Cico egg cup in 2009, to wide applause from egg eaters everywhere, old and young. The all-in-one boiled egg server holds eggs in the head, with the hat serving as a salt shaker, and the spoon just waiting to dig in.
2. Colorful
stainless steel
vegetable peelers
These stainless steel peelers  feature oversized and ergonomic  handles that won't slip when wet. This colorful trio set features a green straight peeler, a red serrated peeler and an orange julienne peeler.
The  swivel peeler features a double stainless steel blade that swivels and conforms to all shapes of fruit and vegetables. It is best used for vegetables such as potatoes and carrots. The  serrated peeler is best used for soft flesh fruits and vegetables such as peaches, tomatoes, peppers and mangoes. The julienne peeler is best used on vegetables to create matchstick cuts.
3. Bento box lunch set
Embrace the bento way of on-the-go lunching with this Bento System 2.0 set. It is designed to help you pack nutritious, environmentally friendly lunches for school, work, and travel. This set includes an outer container that carries 4 inner containers (2 large, 2 small) with 2 seal-able lids, a dip container, and stainless steel fork and spoon. This bad boy is made in the United States.
4. Handblown martini glasses by Sagaform
These hand blown martini glasses feature colorful bases and look fabulous at the cocktail parties.
5. Calibowl's Colorful Mixing Bowls
You'd think a mixing bowl is a mixing bowl. But a designer in California has integrated some surfing magic into this design. The Calibowls have a thick lip, with a curve that pushes food back onto the utensil to avoid splattering your shirt or counter. It's available in several different colors.
6. The Iconic
Juicy Salif

by

Philippe Starck

No self-respecting designer would have a kitchen without this iconic citrus juicer. Philippe Starck designed this for Alessi in 1990. While it may be tempting to place the Juicy Salif on a pedestal, it also works surprisingly well.
7.
Pantone

Colored

Coffee Mugs

These mugs feature the Pantone colors designers use every day. They are authentic Pantone colors and feature the official Pantone over-pricing.
8. Sleek iScale
This sleek kitchen scale looks a bit like an iPad. It looks great in the kitchen and provides accurate weight measurements for baking. It includes 4 high precision GFX latest generation sensors to deliver superior accuracy and the fastest response times for the quick paced chef.
9. MOMA-worthy Can Opener
This can opener from West Bend is a great example of thoughtful design. It's sleek, eye catching form hides subtle details that make it shine. The cord is completely retractable with a cover, the magnet that holds the can can be stowed when not in use to avoid grabbing any nearby metal objects, it removes the lid without leaving sharp edges, and the blades are replaceable to keep this guy working for decades. Perhaps you'll see this in the Museum of Modern Art in the near future.

10. Alvar Aalto inspired serving dish
Iittala's 13.5-inch Aalto Clear Glass Serving Tray is a new piece of art inspired by the late Alvar Aalto.

You can see the inspiration from this collection of Aalto's glass vases: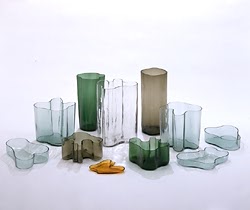 Related articles